Clay and Shelley Ensley started their business out of a small 14'x16' garage while transitioning from a ranch work lifestyle to a production area.
Clay has over 30 years of experience, having built his first saddle in 1978 while working with his father from Diamond C Saddle Shop in Lewiston, Idaho. He knows what the working cowboy's needs are and is able to problem solve saddle and gear issues.
Shelley was unable to withstand duties required at the University (last employed position) as well as ranching or agriculture due to three major surgeries on her C-Spine.  She sought assistance from Idaho Vocational Rehabilitation after two surgery failures, third being marginally successful.   With over 38 years of financial/business management from both medical office and University levels, and two-years post-surgery, she was seeking a means to become productive again by finding new skills, along with professional training in leather making classes.  These courses offered an opportunity for her to get back into the workforce through a home-based business.  The journey has been a successful one, but not without its challenges.  The home-based business allows her to step away when necessary and still be productive at a higher level than if she were in the traditional institutional environment.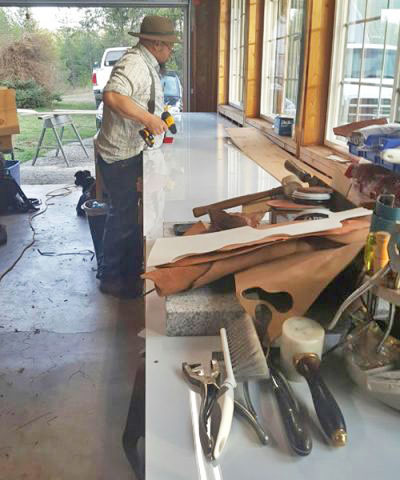 After many hours of writing a business plan and budget projection with a set of goals, this business offers this husband and wife team a unique opportunity to continue to do what they love and still serve the public. Because they both have spent many hours in the saddle, doing performance or ranch work, they understand the needs of those in the field.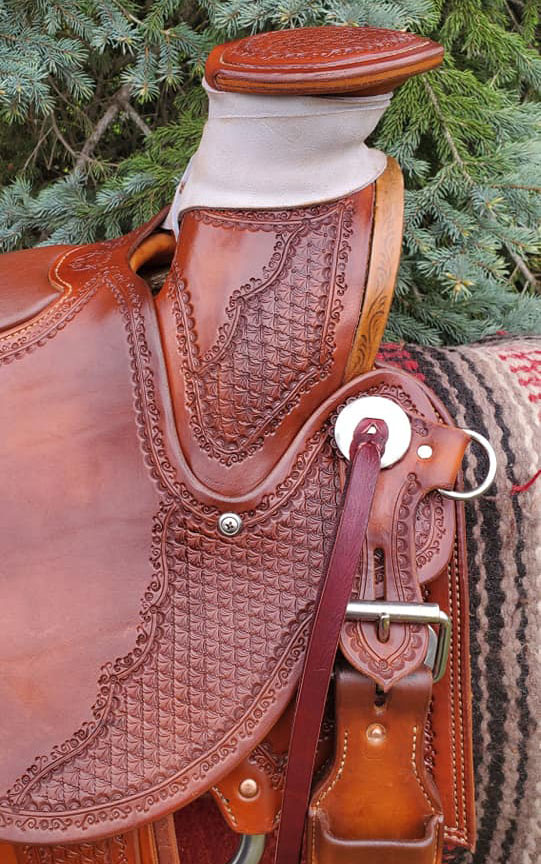 If you have been searching for a truly custom leather shop, you have come to the right spot!
We provide a wide array of leather items – custom saddles, various types of leather cases, holsters, scabbards, wallets, belts and a multitude of other custom leather articles. For those seeking the finest in custom, handmade western saddles, tack and various other articles, C&S is the company you need to call.
While our shop is primarily custom western saddles and repairs, we are always happy to discuss any needs you may have. We are committed to using U.S. made materials with the exception of some hardware. Whenever possible, we use only U.S. made hardware. Sadly, many of these companies have moved their operations to the Far East, and often they are the only source for saddlery hardware.
We take pride in the quality of our finished product, paying careful attention to the burnished, hand rubbed and dyed-by-hand approach. This is a set of principles that has been lost in the industry, so we are determined to make that a priority!